Poll: Change to old saber system


This poll is closed.

Yes
31
59.62%
No
21
40.38%
Total
52 vote(s)
100%
Why I believe the old saber system should be brought back.
any more votes must be from Shadow Guards and Sith on Imperial.
---
I agree, the new system looks cool and it's giving a feeling of a good battle like in the moveis, but still there are many exploits and in events its happening a lot when i chase someone hitting him and i can't reach him wiht my saber even if im extremly close to him. i used to be a jedi master for almost over half of year in the CW and i was really good. but know, that i came back to vision, the system changed, first i thought its call and awesome, but then when i started dueling, i realized how bad it is.
The old system was relying on skill and strategy but this one, is based on HP.
i was an acolyte till yeserday then i got promoted to apprentice then i started winning duels and giving massive damage cause i had more HP and could suffer more damage and i had the chance to strike.
In conclusion. i know that this system is paid and vision worked on that and only tried to upgrade the fighting or RP. but many people on the forum and people that didn't wrote on the forum prefer the old lightsaber system. i will be happy and i guess most of us will be if the old lightsaber system will be brought back.
Yours,
Steve
---
[IM] Admiral Steve
BladeMaster Steve / Marauder Steve
You're making me open my eyes in twisted nightmares
Watch every part of me fade, I'm not there
Don't follow me down, I don't want to be found, So walk away now
Can this actually happen now on imperial because most sith want it to change yet no progress for change has been made.
---
I can say from the shadow guards, They want it back also.
---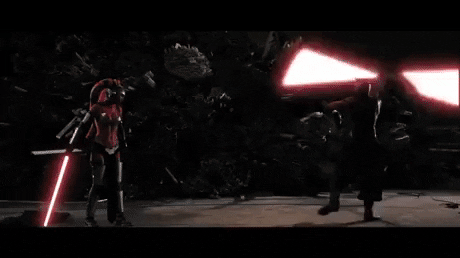 Empress Talon showing off how powerful she really is!
mfw it hasnt been implemented :^(
---
Ex Staff Member
Users browsing this thread:
1 Guest(s)